Up DVD Giveaway (Blu-ray/DVD Combo Set) – CLOSED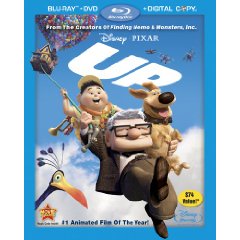 THIS CONTEST IS CLOSED – Congratulations to our Winner – Dee! – Thank You to everybody that entered. Check back next month for another Free Giveaway.
Up has just been nominated for a Best Picture Oscar and to celebrate we are going to give away a fantastic 4 disc Blu-ray/DVD combo set to 1 lucky winner.
Contest Bee has a copy of Up (Four-Disc Blu-ray/DVD Combo + BD Live) to give away to one lucky reader. This is a great movie that can be enjoyed by the whole family.
Let Disney and Pixar Animation Studios take you up, up and away with one of the funniest movie adventures of all time
There are 2 Easy Ways to Enter this DVD Contest:
1) Just leave a comment below and we'll give you one entry. Comments are moderated, so your comment may not show up immediately. Please only leave one comment.
2) Bonus Entry: You can also enter (or gain a bonus entry) on Twitter. Just Tweet about this contest on Twitter to gain an entry. For your Twitter entry to be valid, you must follow @ContestBee on Twitter and include the following link "http://bit.ly/bV0XWv" in your tweet.
Example Tweet: "I just entered the #UpDVDContest to win Up on Blu-ray/DVD. http://bit.ly/bV0XWv (Follow @ContestBee and RT to enter)"
This DVD contest is open to US and Canadian residents aged 18 years and older. Contest ends on February 10th, 2010 when a winner will randomly chosen. Contest Bee reserves the right to end the contest early or disqualify any entry. Good Luck!
Help Spread the Word:
Help spread the word about Contest Bee by blogging about our site or this DVD Contest. We are dedicated to bringing our readers the best online giveaways.