Contest Bee Giveaway: Win a $25 Target Gift Card – CLOSED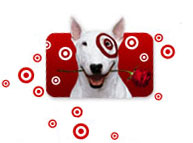 THIS CONTEST IS CLOSED – Congratulations to our winner @Haute_Paiute (Twitter entry) – Thank You to everybody that entered. Check back next week for a Toy Story DVD Giveaway.
We love shopping at Target! Win this $25 Target Gift Card and treat yourself to something nice on your next trip to target. If you don't have a Target store in your area, redeem it online at Target.com
This Giveaway is Easy to Enter:
– Just leave a comment below and we'll give you one entry. Comments are moderated, so your comment may not show up immediately. Only leave one comment.
– Bonus Entry: You can also enter (or gain a bonus entry) on Twitter. Just Tweet about this giveaway on Twitter to gain an entry. For your Twitter entry to be valid, you must follow @ContestBee on Twitter and include the following link "http://bit.ly/9AZkYG" in your tweet.
Example Tweet: "I want to win a $25 Target gift card from @ContestBee. http://bit.ly/9AZkYG (Follow @ContestBee and RT to enter)"
This giveaway is open to US and Canadian residents aged 18 years and older. This giveaway ends on June 2nd, 2010 when a winner will randomly chosen. Contest Bee reserves the right to end the contest early or disqualify any entry. Good Luck!
Help Spread the Word:
Help spread the word about Contest Bee by blogging about our site or this Giveaway. We are dedicated to bringing our readers the best online contests and giveaways.
Disclosure: Contest Bee did not receive any compensation for running this giveaway. We run the giveaway because we love shopping at Target and we love giving our readers a chance to win something. Plus sometimes other sites link to our giveaways which is reward enough. For our full advertising and affiliate disclosure spiel, click here.